In any SEO strategy, we find the need to use tools to search for keywords. The problem, especially for freelancers or companies with limited budgets, is that many are paid.
But some tools allow you to search for keywords for free and with excellent results. In this post, I present 2 of them.
2 tools to search for keywords without any cost
1. Google Keyword Planner
In my opinion, this is the essential free tool for keyword research, and I recommend you to use it whenever you can.
Keyword Planner tells you how many monthly searches a particular keyword has in Google, depending on the country and language you select.
This way, you will know if the keyword in question can bring visits or not. Logically, it makes no sense, for example, to work on a keyword that has 0 monthly searches because it is clear that if no one is interested in it, it will not generate visits to your website.
Keyword Planner has the added advantage of being Google's tool. Therefore, it is the one that provides the most reliable data on the monthly searches that a keyword has in this search engine.
Important information: there has recently been a change in the tool. While previously you could use the word planner for free to search for keywords, and it provided you with accurate metrics, now it only shows you a range.
Search keywords free keyword planner
We need to use an account running a Google Ads campaign. If so, the data delivered by the tool is much more accurate:
search keywords free keyword explorer monthly searches
Bearing in mind the above, to use Keyword Planner, you must follow the following steps:
    Log in to Google Keyword Planner.
    You must select an account linked to Google Ads (to consult accurate data and avoid ranges).
    Once you have chosen the report, go to "Tools and settings" → "Keyword Planner."
The tool will give us two main options:
        Discover new keywords.
        Check the volume of searches and forecasts.
Search for free keywords planner
Using the first option, we can enter keywords. The keyword planner will show us suggestions of related words and their metrics. For example, if we use this option to search for the keyword "inbound marketing," the tool will provide us with the data for the keyword and related keywords.
To take advantage of this function, you have to do the following:
    Log in to Google Keyword Planner.
Select "Discover new keywords."
Enter the keyword or keywords from which you want to find new ideas. You can also enter a URL, e.g., of your competitors or a page that deals with similar topics.
Select the country and language you want to search in, and click on "Get search volume" (at this point, you must select the language of your website and the country of the users you are targeting).
    You will then see a dashboard with the results. You will also be shown the number of monthly searches for each of these keywords.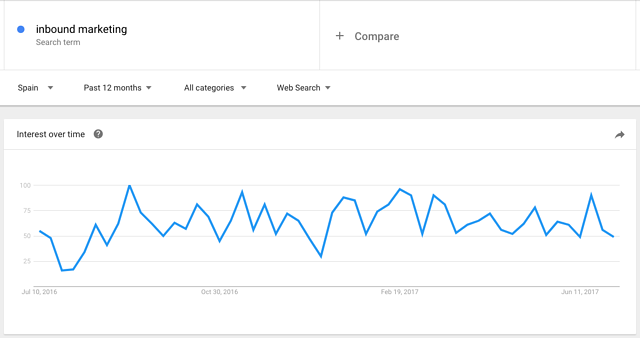 Google Trends is another keyword tool created by Google with a particular objective: to find out the trend of a keyword, i.e., how its searches have evolved.
What is this useful for? To see if the trend of this search term or keyword is positive and if, therefore, you are interested in using it on your website or blog.
If the trend is positive, it is advisable to do so, and if it is not, it is not.
To use it, you only have to follow these steps:
Access the tool.
Indicate the keyword for which you want information on which dates and in which country.
Consult the results.
Search keywords for free google trends
With Google Trends, you can also make a comparison of the trend of several keywords. This is very useful when you have doubts when choosing keywords with different meanings or keywords that mean the same thing.
To access this comparison, follow these steps:
Go to Google Trends.

Search for the keyword for which you want to know the trend in the search engine and select the country where you want to see the movement and the dates.
Click, and the results will appear.
Click on "+ Compare" and add the rest of the keywords to make the comparison.
free keyword search google trends results
It is important to note that Google Trends only provides trend information for a keyword but does not provide monthly search information.
Therefore, once you have identified keywords that may be relevant to your website, it is recommended that you use Keyword Planner to check if they have a significant volume of searches.
My recommendation is that you also do it the other way around. If you already know the search volume, it is essential to look at its trend to make sure it is a word that will be searched for overtime.
If it is not, it is better to consider using another one, even with fewer monthly searches.
keep in touch with us in our BLOG
Visit Marketing Agency HERE.