Grow out your Blog!!
Everyone says "Content is King," and it certainly is, and that's why we must focus on
generating quality content, wherever it is: social networks, books, Blogs, etc.
In this case,
I am going to give you 6 tips to grow out your Blog
1-Review search trends
These can be found in different ways:
In Google Trends, the King of searches rules over the other search engines.
On Youtube, the 2nd most crucial search engine, because it is also part of the company
Google.
Google Advance Search (advanced search).
As you can see, these three belong to Google and are the ones that rule over other search engines. You can visit
I recommend you always start with these.
2-View hashtag and keyword usage trends
Twitter has its own "trends" section; did you see them? And they change every day.
Trendsmap shows you trending hashtags according to locations on the map.
Top Hashtags, you can search according to your topic, and it will give you a top of the most used hashtags.
most used ones.
Hashtags for likes (especially for Instagram) show you the most used hashtags by category.
Categories, and it also allows you to copy the list of these.
3-View content statistics
The statistics of the content we share on social networks and our Blog will give us parameters of the content that most likes and attracts our audience:
In a Blog: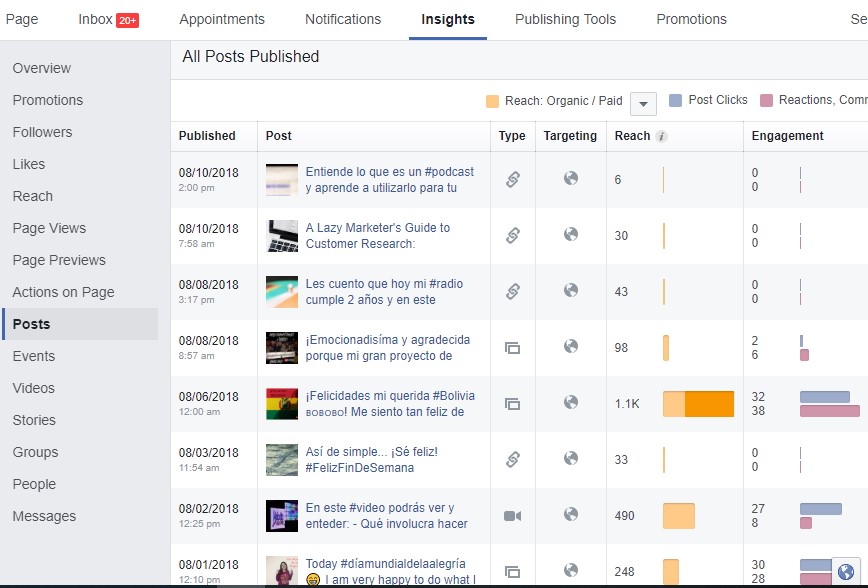 This way, you can check the statistics of social network and see what type of content is the most attractive to your audience and take it as a starting point for the creation of new content. You can also use external data analysis tools for social networks and your blog,
to help you detect the most relevant content.
4-Analyse audiences
It is always essential to analyze the audience that follows you to satisfy their needs,
requirements and interests and create content according to them.

In Facebook, it is necessary to review this through "Audience Insights" and to
check the people connected to your page.
On Twitter, you can review interests in the "Audiences" area of your Analytics page.
Instagram (if your account is a business account) also allows you to see some audiences.
On the other hand, I found a nifty tool that helps you analyze your audience in detail, and that is "Audience."
5-Determine content topics
Content topics are something like categories, and in a previous article, I explained them in more detail. You can read it here: "How to generate topics to create content."
6-Observe the competition
Observing the competition doesn't require much explanation. Some tools allow you to compare websites and social media accounts. On the other hand, in its statistics section, Facebook has the option of observing the competition and showing you its best posts.
8-Be aware of important events
To create content concerning them, you should be aware of the events that are happening or are going to happen, either inside or outside the Internet. Be sure that doing this will help you to attract more audiences to your content.
For example, when the World Cup was happening, everyone talked about it, so you should take advantage of it and create content that has to do with that event.
At the end of the day, if you no longer have options to create content, go back in time and revisit those old articles that you can update and republish into new ones. I hope these tips will help you create content that is easier and more engaging for your audience.

Let's get to work!
Keep in touch with us. visit our blog for more information.