It is undeniable that commerce has changed. For several years now, a company that does not appear on the Internet does not exist. And we can go even further: a company that does not appear in the first search results finds it very difficult to increase its sales and reputation in the online world.
It is at this point where SEO comes into play, one of the most important and complex parts of marketing, so if you have to hire a digital marketing agency to work the SEO of your website, you must make sure it is a good company.
Contact us!
Who hasn't heard about SEO in recent years? This discipline encompasses all actions aimed at improving the positioning of a website in a search engine like Google. In order to achieve it, it is very essential to know its importance, its context and what are the new SEO 2021 trends.
Let's talk about it below!
The importance of SEO and its context today
The origin of search engines dates back to the 1990s. Specifically, in 1996 is when the giant of search engines appeared: Google.
Google grew very progressively until in 2015 its market share already reached 70%. This fact made Google optimize its resources considerably and also divide between two types of traffic: organic and paid traffic.
In recent years, user privacy has become very important to Google. The search engine has focused its efforts on boosting users' trust and privacy, giving them greater control over their data and complying with data protection legislation.
Now, each user has the ability to control what data they want to share and what data can be used by advertisers.
This situation is very positive for Google users because it undoubtedly helps to increase trust in the search engine. However, it makes all online advertising take more and more unspecific data every day, hurting website conversions.
Faced with this situation… what can advertisers do? Google recommends the use of Machine Learning in advanced features such as smart bidding to improve performance, campaign management, creative testing and performance measurement, in order to get the most out of strategies.
What exactly is Machine Learning? Machine Learning, closely related to Artificial Intelligence (AI), identifies behavioral patterns, i.e. the tastes and preferences of users, by analyzing a large amount of data, and all this thanks to the development of complex algorithms.
E.A.T.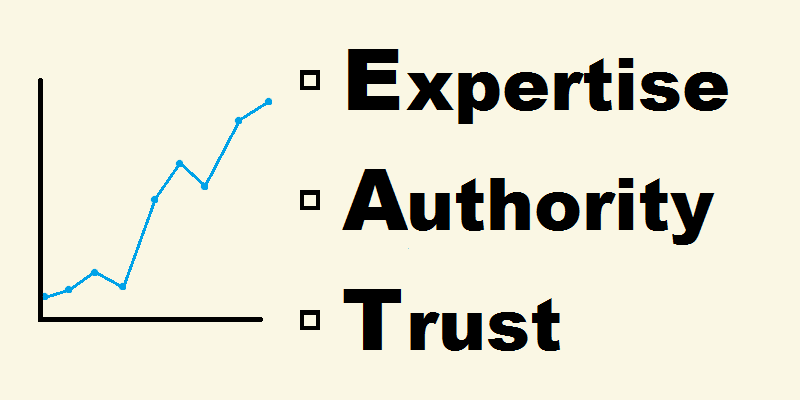 E.A.T. stands for Expertise, Authority and Trustworthiness. The concept refers to the requirements necessary for the positioning of a web page according to Google's quality raters.
Although these requirements are not the only ones taken into account, they are very important in order to position a website in the search engine. Especially in some pages that deal with more sensitive topics, for example: health and money.
Experience can be achieved with relevant and quality content (content focused on helping potential customers of the website), authority with reviews, comments, etc., while trust depends on the response time, https, navigation…
Remember that, after the latest Google updates… E.A.T has become very important and should not be neglected during 2021!
User experience
The future and trends of SEO are focused on user experience. The efforts of a good SEO should be focused on making website users enjoy browsing a website and share data and information on a completely voluntary basis, so that it is also interesting for the search engine and ranks better. Google will never bring down a website that users like!
user-experience-search-engine-seoTo achieve this, it is necessary to pay close attention to the performance and speed of a page, the content (this must always be of quality and respond to the needs of the public), the visual support, the design and security of the website, among other things.
Visual searches
Users have been showing their interest in image- and video-based platforms and formats for years. That is why Google understands this future trend and from 2021 will include this type of media in its search ads. This is what is known as gallery ads, which will offer a visual ad format that will appear at the top of the search results page, allowing up to 8 images to be included.
We also find the rise of Google Lens in search trends. This technology allows, from the search bar, to photograph an object and instantly obtain search results with ads related to the image.
Finally, Google is considering the possibility of incorporating shopping ads along with standard image results based on your search intent.
If you want to position your website contact us. At xitsus we hava a team of SEO specialists who will implement all these SEO trends on your site.