Different Types of Online Ads .
Native advertising. Different Types of Online Ads
This term is known as non-conventional advertising on the web. In other words, it avoids banner formats or sponsored content to resort to a strategy in which the aim is to gain the user's trust by offering solutions to their problems.
Many tools can be used, although one of the simplest is creating a blog. In such a publication, topics related to the sector are dealt with, not for advertising purposes but for the interest and usefulness of the user.
From there, SEO, mail marketing, and lead nurturing can offer the right content for the stage of the sales funnel in which the potential customer is.
The most positive thing about these online advertising formats is that they are not intrusive and are highly valued even by those who use standard advertising blocking techniques such as Adblockers.
    SEM or Search Engine Advertising.
With this type of advertising campaign, the aim is to obtain great notoriety of the brand concisely. It is enough to generate an advert with a title, description, and call to action; and bid for specific keywords.
Depending on the quality of the site and the CPC established, the promotion will be shown when users type in the search engines the terms that have been selected in the campaign. In this case, a bid is set based (generally) on cost per click.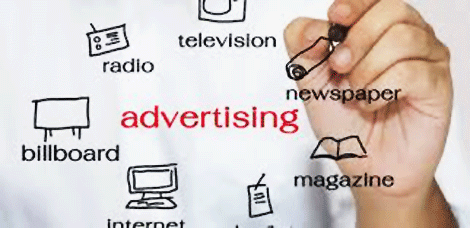 Display.
Among the most visual digital advertising formats, display stands out. This is the name given to advertisements containing images or video (generally) and published on any Internet site in spaces specifically designed for this purpose.
It can be a blog, an online newspaper, or a portal aimed at a specific target group. The contracting can be direct with the medium or through platforms such as Google AdWords. The cost is calculated through the CPC or CPM (per thousand impressions).
    Mobile advertising.
Although there are specific formats for mobile advertising, it is advisable that all the advertising campaigns you carry out are adapted to these devices or are issued under the responsive typology that automatically displays inappropriate dimensions according to screen sizes.
Nowadays, all users use mobiles and tablets and access the web many times a day. In fact, according to Google, mobile traffic in 2016 already surpassed that coming from desktop devices. So, if you're not already betting on them, it's time to leap.
Not only will you get a greater reach and interaction with your advertising but, in a complementary way – in ads that you show on your website – you will improve your SEO due to Google's Mobile-First algorithm.
    Social media advertising. Social media is an integral part of almost every user's life. They are channels to which they connect several times a day. They communicate, share, and give their opinion often. 
Generating advertising campaigns using these formats is essential for brand building and attracting new potential customers.
Moreover, they can be the perfect space to launch products or services aimed at specific targets due to the segmentation possibilities offered.
Both in terms of conversions and implementing branding strategies and association with certain concepts, they are a good alternative.
    Retargeting or Remarketing.
Remembering your brand to users who have already visited you or have shown interest in your page is a strategy that achieves excellent results in conversions.
Remarketing makes a banner of yours appear on the screen of people who have previously visited your website, regardless of the site they are on (as long as these sites offer remarketing advertising space).
With this technique, it is essential to take this into account when betting on digital advertising formats. These types of ads are attractive to achieve sales. Still, they are also very relevant to gain notoriety, be present in the consumer's mind, and improve the brand's presence in the purchase decision phases.
It can be hired through search engine advertising management tools, such as Google Adwords. The price, in this case, is usually established through the CPC metric.
    Email Marketing. The digital advertising format of Email Marketing is not new, but it has re-emerged strongly in recent times. Conversions with these campaigns in Spain are among the best in Europe. In addition, thanks to automation tools, very profitable conversion targets can be achieved.